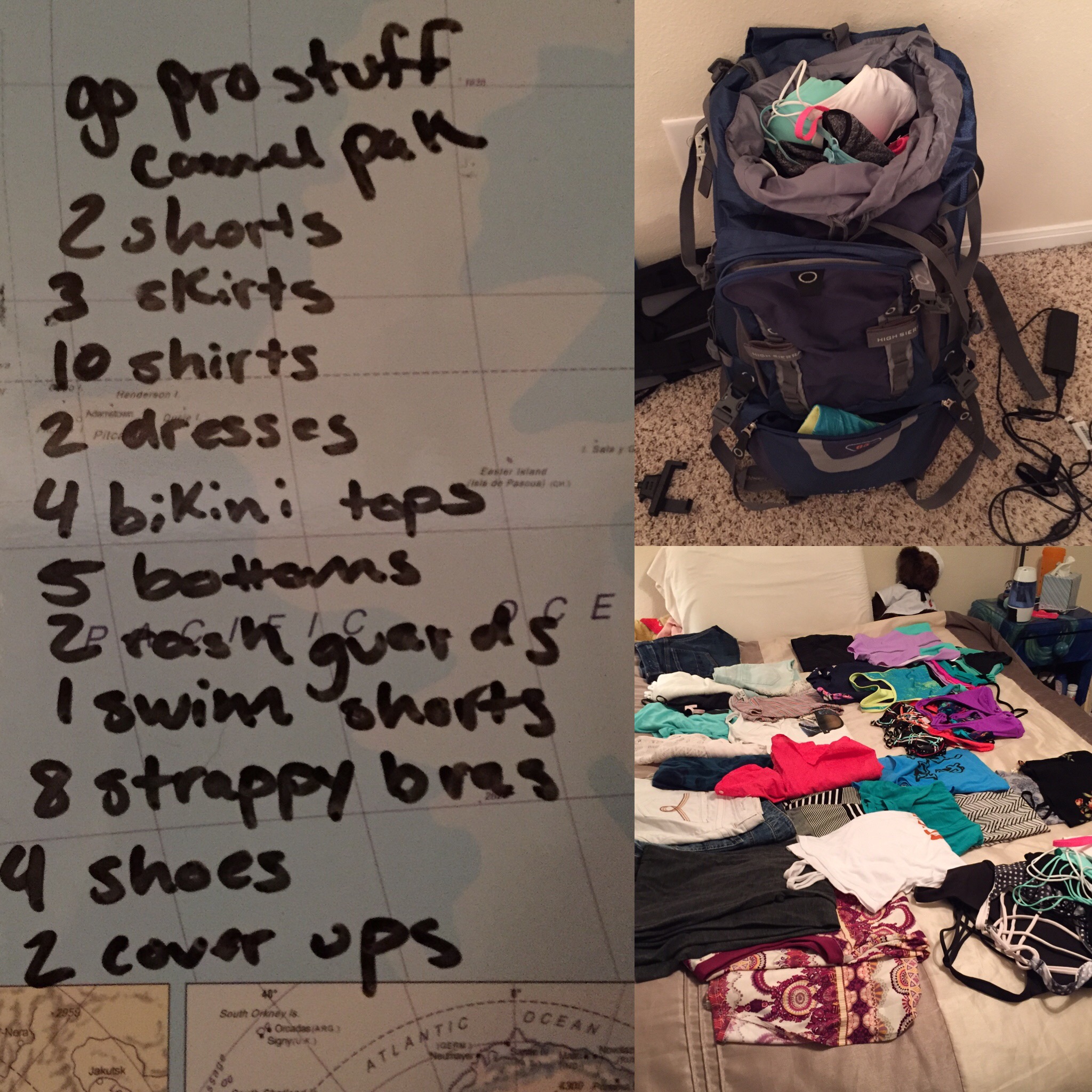 The Chronicles of an Over-Packer
My name is Pam and I have a problem. Oh… this isn't AA, ok. I still have a problem. I am addicted to packing way too much all the time, no matter what. My "overnight bags" are carry on suitcases filled with a weeks worth of clothes (my boyfriend can definitely attest to that). I packed a "checked" suitcase to spend a week in bed recovering from nose surgery. I'm not sure a 12 step program could ever help this..
And now that I'm packing to go to Hawaii for a week, I've probably done it again. But since I am somewhat conscious of this irritating flaw (yes, I irritate myself with how much I pack), I have made attempts to fix it. I recently bought a framed backpack (the ones "backpackers" and campers use) and have vowed to only pack what I need.
Since I have confined myself to 4000 cubic inches as opposed to the normal 5800 cubic inches of a large checked suitcase, with the knowledge I will be bringing back gifts for family and friends, it's forced me to pack only what I really need and think out my outfits before hand (which I never usually do, at least not on non-business trips). So this is a first. Obviously when going to any island, there is a VERY strong chance you will mostly be packing swim suits and beach clothing, but I figure I'll be doing some other non-beach activities and need to be prepared. (Thank you girl scouts for your motto that has now become my curse).
When my bag arrived a few weeks ago, being the complete dork that I am, I decided to pack it and see what it could fit and I have to say I was very surprised. In 4000 cubic inches I fit:
A camel pak
2 pairs of shorts
3 skirts
2 dresses
10 shirts
5 bikini tops
5 bikini bottoms
2 rash guards
2 board shorts
8 bras (sports/strappy/swim)
4 pairs of shoes
2 cover ups
toiletries
ALL my camera stuff (go pro, nikon power shot, 2 mono pods, extra lenses, different mounts for the go pro and all the chargers)
and of course underwear
Since then, I've unpack and repacked the bag, evaluating what I MUST take and what can be left behind. So some of that stuff listed did come out. And I am very proud to say I have PLENTY of room for gifts (No Mom, I won't forget to buy you something nice for not killing me as a child and that I am missing Mother's Day).
Having traveled quite a bit, I've tried out all the various techniques of packing. Rolling up clothes to save space/keep them wrinkle free, putting shoes at the bottom, stuff stuff into your shoes, making your bag a very large Tetris game and a bunch of others that either people have mentioned to me or that I've read online. But to be honest for someone who suffers from chronicling over packing, none of them have really helped.
Despite most of those well known packing tips not working for me, I have come up with one key trick that does work for me (maybe it's common knowledge, I have no freaking clue). My biggest packing tip (especially for journeys far away that require plane travel) is to wear the bulkiest clothes I am bringing on the plane. For instance, when I went to Sweden in November I knew it would be getting cold. Most of the shoes I had were boots of some nature. Two of the three pairs folded fairly flat so those went at the bottom on my suitcase. However, I wore the bulkiest/least flexible pair on the plane. I'm one of those people who is typically always cold so wearing snow boots to fly from Houston to Frankfurt and Frankfurt to Stockholm wasn't that big of a deal. I also brought my "ski jacket" with me on the plane. I used parenthesis because while I have attempted to ski/snowboard many times, I just suck at it, so now it's just my utilitarian weather coat because it's thermal, rain proof and has so many freaking pockets! Major props to Burton for making cute ski wear I can wear anywhere/anytime. It also acted as a very nice blanket/face mask (I'm probably somewhere on the passengershaming page on instagram) and best of all, I didn't have to rummage through my suitcase when I arrived in Stockholm to find either my boots or jacket. All I had to do was grab my bag and then a cab. And, needless to say, I dressed the exact same way on the flight home. I probably look like a very well dressed hobo but to be honest, I really could care less.
With airlines cutting down on the weight, size and number of pieces of luggage one person is allowed, as well as the ever shrinking under-seat space, it only makes sense to do stuff like this. I ALWAYS only have two bags. My suitcase (which sometimes I check, other times I don't) and my carry on which is a North Face backpack that has seen just as many countries as I have. That backpack always carries my pillow, laptop and snacks. Since all my books are audio books, I don't have to worry about those taking up space. And I typically stuff my purse into my backpack.
Everyone has different travel needs. But after much trial and error I have found that these few simple and possibly painfully obvious things work for me. Now if I ever get super rich and have my own plane, I'll probably revert back to my old ways and just pack my entire closet, but for now, I'll stick to the essentials and keep working towards packing even less.