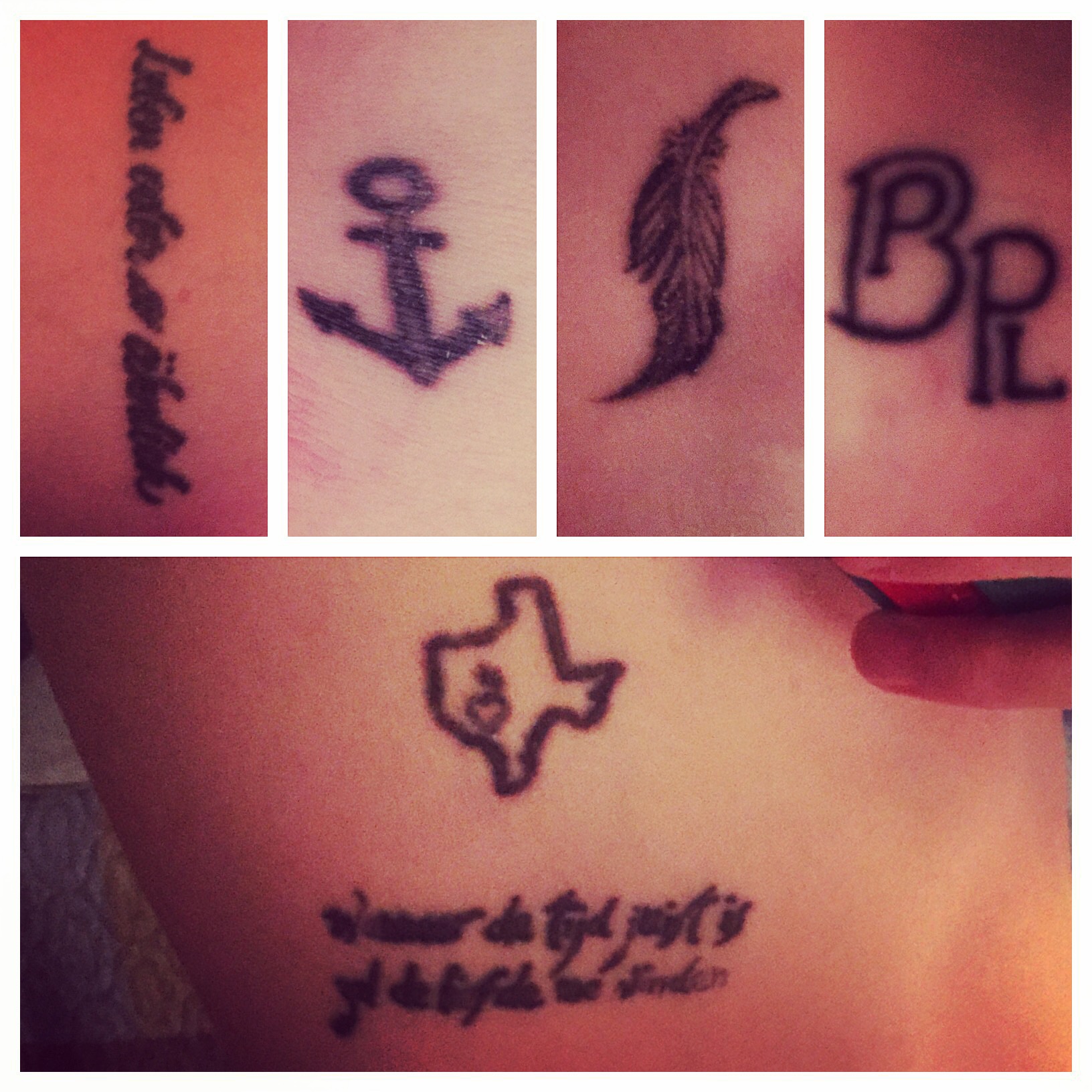 I always knew a I wanted a tattoo. I didn't know I would end up with 7 (at least for now). For the longest time I toyed around with what design I wanted. I wanted it to be deep and meaningful, you know…. Not like a heart or star. I didn't want what every girl in my demographic was getting. I couldn't decide and wouldn't settle so I waited. I waited a good long time.
I always knew my mother never wanted me to have multiple piercings or tattoos. She lost that battle the year I went of to college. First it was my second holes in my ears, then my cartilage and then the tattoos starting coming.
I got my first tattoo at like 22 or 23. In high school I got one of those fabric bound journal/sketchbooks from a book store. My intent was to make it a journal/scrapbook/sketchbook. Compiling all my thoughts, what was going on in life etc. I had my best friend at the time translate a phrase for me into German. I didn't really know any german at the time so I relied on her. The phrase I wanted translated was "Life of something like it" which translates to "Leben oder so ähnlich". Middle school and high school were rough for me. A lot of crap went down in my family so that phrase just meant something to me. It reminded me that there is no such thing as perfection in life. So obviously that was my first tattoo. It stands alone on the right side of my rib cage.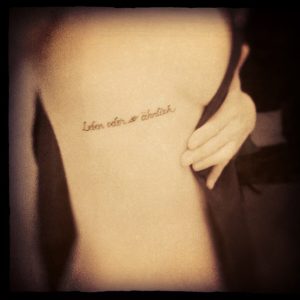 My second tattoo was the outline of Texas with a heart roughly over where Austin is with an even smaller star close by. The University of Texas song is "The Eyes of Texas are Upon you" and stars represent the eyes. UT had always been a huge part of my life so again. It seemed fitting. It is the first tattoo on my left rib cage
My third tattoo was a phrase I came up with, with a bit of help from my Dutch friends to get the syntax right to express both heartache and hope. The phrase in English is "when the time is right, love will find me". In Dutch, it is "Waneer de tijd juist is, zal de liefde me vinden". This is the second tattoo on my left rib cage.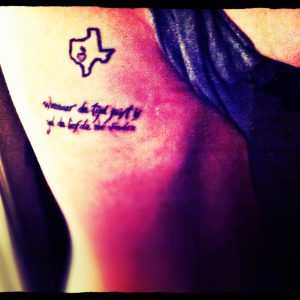 My first three tattoos are all on my ribs. Bit of a painful spot but I wasn't ready to commit to visible ones yet.
Then, last year, I got three tattoos at the same time. One is the coordinates to my childhood home. I moved there when I was 6 months old and my mom sold it last year. So on and off from 1988-2014, that was home. The same day I got an anchor on my right outside heel and a feather on the left. I lead with my right foot, so that is the foot that anchors me but my left is the one that takes flight.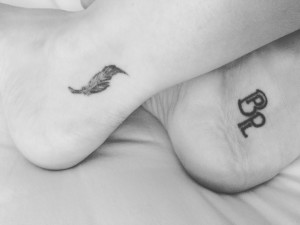 The last tattoo I've gotten are the initials of my best friend and our pets. BpPl. He got the same tattoo. And jokes on you suckas bc since we went from being together to best friends, I doubt I'll ever regret it.
I have more tattoos in mind. One I would like to get done in Amsterdam. I might get one in Vegas in December if the mood so moves me but the one tattoo I really want to get is a blessing tattoo by Thai monks.
In keeping with my philosophy of collect memories, not things, my tattoos are memories to me. They represent a time in my life and convey my emotions at those times. I can't take anything with me to the grave so to speak except for what is on me, and these will be on me forever.
I am not ashamed of my tattoos in any way, shape, or form. They are a constant reminded of the perfectly imperfect journey I am on. And each new tattoo represents a new experience, memory, emotion or place in time.
I wish I could say to my mom that I am sorry for going against her wishes and "defacing my body" but if these inkings are all I have to keep when it's my time, then at least I got one souvenir for eternity.