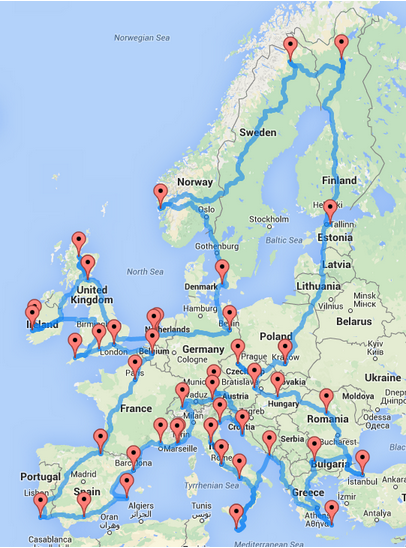 I'm not sure if the idea of taking a "road trip" is universal or a mostly American construct. You hear loads of Americans talking about taking a trip down Route 66 or cross country or what have you. I've never done this. At least not multiple states by myself or with a close group of friends. However the idea really intrigues me. Setting out on a journey with a final destination in mind and a route sort of laid out (at least that's how I'd do it) but then route is open to endless possibilities.
I used to live 45 minutes from Galveston Bay. So every summer I can remember My mom would pile us in the car and we'd take a trip down to the beach for a day. Sometimes stay overnight. But a 45 minute drive isn't really a road trip. My mom's best friend from 7th grade lived just outside of Austin so every 4th of July and New Years my family would make the 200 ish mile drive up to Austin. Ok 200ish miles is getting closer to a "roadtrip". (I did the exact same things with my friends during spring and summer break during high school. We'd pile in one or two cars and make our way). When I was younger my family took two road trips (like multi state) but sadly I don't really remember much. Then in college I was driving back with a boyfriend (now ex) from his Naval post in SC to Houston. Again, yes this was multi-state but considering we drove straight through, like 18 hours with only gas and bathroom breaks, doesn't really count.
I want a roadtrip with loud music, windows down, wind in my hair, best friends all around me and all the time in the world. But who has time to plan that right? Especially when you have to stop putting stickers or pins on your map because you've just started to mark everything as "Must See".
So I propose to you two lists. Not created by me. But shared by George Takei on facebook (original source is Discovery news story written by Tracy Staedter). The ultimate US roadtrip and the Ultimate European Road trip.
http://news.discovery.com/tech/gear-and-gadgets/how-to-really-drive-across-the-us-hitting-all-major-landmarks-150309.htm
Now where did I put my international drivers license…..