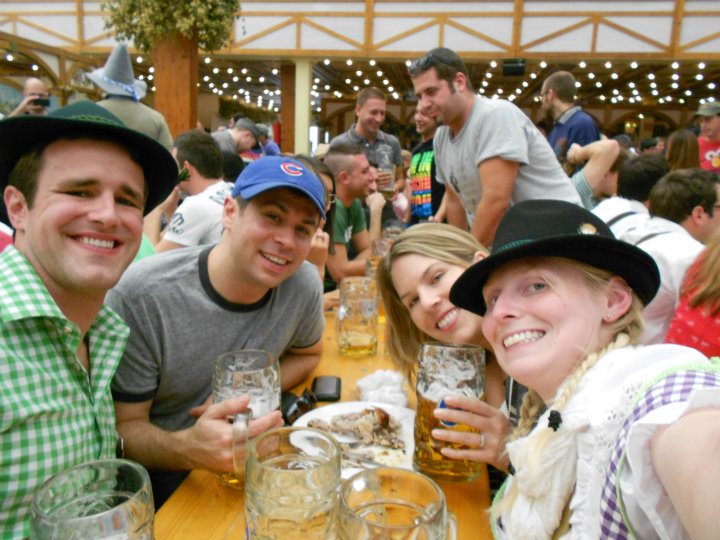 My birthday is in early October and I happen to be of German decent. Back in 2011 when I was dating this guy who loved to travel (as mentioned in the last post), and he asked me if I wanted to go to Oktoberfest.
Because Texas has a fairly decent sized german descendant population in the Texas hill country, I thought he was asking if I wanted to go to one up there. WOW was I wrong. He asked me while we were both at work via gchat but we talked about it more later and that's when I realized he meant like the real deal in Munich. I wanted to sooooo bad, but to be honest, I wasn't in the most financially sound place to be able to fly across the world. So he said it would be my birthday present. We'd arrive during the last weekend of it, and he would use his copious hotel and airline points so it wasn't too expensive.
I wasn't a huge beer drinker at the time so we started prepping. Trying different beers, going to beer tastings and by the time of our trip I was ready! Not only was I going to Bavaria, where my mother's family is from, I was going to Oktoberfest for 25th Birthday! It was too perfect.
The first day we got there we just sort of walked around, got acclimated. We stop at one tent, sat outside and a GIANT pretzel and an almost equally large beer. I was also HELL BENT on getting a traditional dirndl no matter the cost so on our way back to the hotel we stopped in a shop and luckily I found one on sale. He was going to buy leiderhozen but they were like a grand so he opted out and just bought a shirt that matched my dress.
The next day we got up super early, decked out in our various german garb and headed straight for the Hoffbrau House Tent, because I mean… DUH!
The crazy thing about Oktoberfest is that the tents open at 10. But people start lining up to get inside at like 7…. Which is what we did. Once they open the doors to Schottenhaml, Hoffbrau or any other tent for the matter, this giant push happens. Everyone in the back of the line starts pushing. SO if you are the front you are getting pushed in faster than you can walk. I stayed in front of my boyfriend so I didn't get crushed and we lucked out hard core!
Great view of the Oompa Band. A few other Americans happen to join us and then a group from Nuremberg sat across from us at the same table. It was awesome! We all started drinking and at one point decided to have our very own beer fest. The german's ending up winning but I out drank my boyfriend and two german guys. I take pride in that.
I think I had something like 5 or 6 of those liters that day. We were going to meet one of couples that was sitting with us as the table later that night at the actual hoffbrau house but we couldn't find them and at that point I think we were all beered out so we found a kabob stand, ate, went back to the hotel and passed out.
While it was a short trip, it was definitely a great 25th birthday!