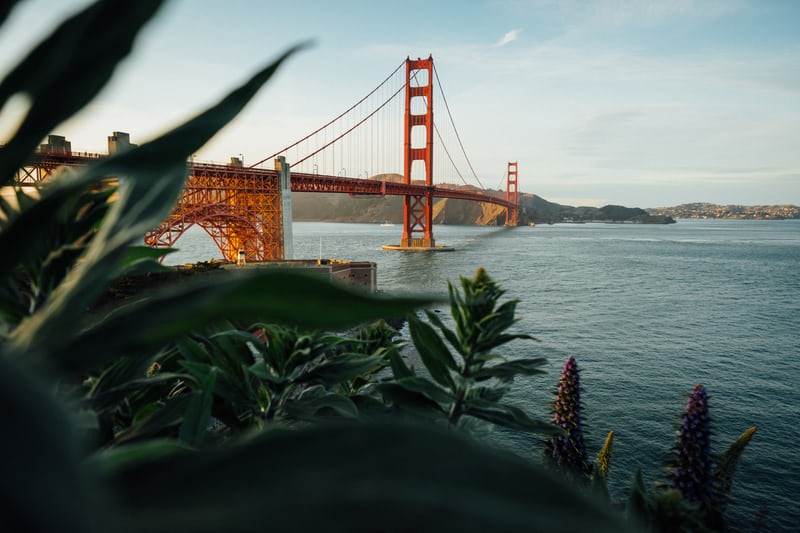 My Top Spots in San Francisco
I'm not a San Franciscan but I have been twice. The first time I did all the touristy stuff and the second time I found more places "outside the box to visit" and this is my list of Top Spots.
Inside the City Limits
Bay Bridge and the beginning of the Embarcadero- Mission street drops off pretty much right at this point. You have the Bay bridge to your right and the entirety of the Embarcadero to your left. From this point the views are really quite spectacular, especially on a sunny day.
Embarcadero – The Embarcadero is approximately 7 miles from it's start to it's finish and emcompasses some of San Francisco's most famous places.

Ferry Building-When ferries were still big this was their main terminal. Today the building holds mostly boutique food places and markets. If you have time to roam around aimlessly, I highly suggest walking in here. The few times that I've been here there has always been a farmers market of some nature outside.
Boat to Alcatraz– The ticket office and boat to Alcatraz are also along the Embarcadero. Once on the boat you get pretty awesome views of the Embarcadero itself and the city as you head out towards "The Rock"
Pier 39– Pier 39 is famous for it's smelliest inhabitant. The Sea Lions. If your nose is not easily offended and you don't mind sound loud noise then go hang out with this crowd for a bit. They don't do a whole lot but occasionally you'll catch the younger ones playing and annoying the older lot trying to sleep. I would recommend going on a sunny day because that's when the sea lions like it best. It also has a bunch of restaurants and shops but I found the sea lions more entertaining.
Fisherman's Wharf– Fisherman's Wharf is a nice little area for dining if you REALLY like seafood. Boudin's is a local institution for having clam chowder in a sourdough bowl.

Ghirardelli Square and Aquatic park– DAMN I love these two places. What's better than getting an insanely delicious dessert and walking over to a beautiful beach? Nothing! (Ok well maybe some things but not a lot).

Ghirardelli Square is the home to two of my favorite stores in San Fran- Jackson & Polk and Gigi+Rose. Gigi+Rose is very girly while Jackson & Polk sells for both guys and girls. Both stores sell from local vendors and have awesome stuff.
Aquatic park is simply gorgeous. You can see sail boats in the bay, triathlon competitors practicing their swims and people taking bike rides from aquatic park down further down towards the San Francisco Maritime Museum. It's just a really lovely, relaxing place.

Coit Tower– Coit tower stands high above the Embarcadero. A little bit before Ghirardelli Square. Named after the family that left the city the land in the 1920's, Coit tower is an art deco tower with astounding views of the city and the bay as well as interesting murals painted inside by local artists. The Filbert Stairs up to the tower are killer!
Golden Gate Park- Golden Gate Park is amazing. Many people don't know that it is actually bigger than Central Park. many of the same features as Central Park in terms of things to do. One man John McLaren was the grounds keep for the 1,017 acre park from it's inception until his death in 1943. Museums, and exhibits have since been added to the park which includes windmills from the Netherlands, a Carousel as well as Japanese and Botanical Gardens (to name just a few). Seeing over several trips is my best advice for taking it all in.
The Rock (Alcatraz)– I LOVED Alcatraz. Not because of the prison but because of it's 360 views of San Francisco, Sausalito, the Headlands, Angel Island. It's just such a great place to view the bay area.
Outside the City
Hawk Hill and the Marin Headlands– Hawk Hill is I guess what would be referred to as a scenic overlook across the bay from San Francisco Proper. It has epic views of the Golden Gate Bridge, Alcatraz and San Francisco itself. Whether its sunny or foggy or cloudy the views are definitely a must see.
Muir Woods- Muir Woods is Gorgeous. Its not like the major Red Wood/ Sequoia state/national park in California but with it's close proximity to the city and a bus that will take you there, it's definitely a must see. Hiking 20 miles in a day (mostly on accident, I can't read trails apparently) was definitely worth all the amazing views!
Byron– Byron isn't really much of anything but the drive there is really neat. There is a HUGE windfarm along the rolling hills in the area. I went to Byron to skydive. Like most big cities there is a certain distance you have to be away from the FAA approved airports to be able to fly. It takes about an hour to get there but just taking in all the views along the way was really awesome.
[Best_Wordpress_Gallery id="16″ gal_title="San Fran"]